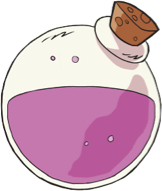 The illustrated exploits of one young Hog Rider and his trusted companion in an unpredictable tale of fantasy and adventure!
Their journey from no-good warriors on the battlefield to true heroes of the Royal Arena!
When danger strikes the village of JazzyPickles and its colorful cast of characters in this heartwarming and hilarious graphic novel based on two of the world's most popular video games.
Once upon a time, archers Jane and Angie were best friends who did everything together. That is, until, one day during battle Jane found herself stranded and alone in an otherworldly cave where she stumbled upon a mysterious scroll…with an even more mysterious message. Continuing the epic graphic novel series set in the world of Clash of Clans and Clash Royale, Gene Luen Yang pens an offbeat and action-packed tale that turns the fantasy-adventure genre on its head!
Sonny the golem is tired of being stepped on by his teammates—literally! His Royale team, the JazzyPickleton Cucumbers, has a new move that leaves him with footprints on his face! And when he needs backup, Sonny is left to fend for himself…and literally gets split into TWO Golems! Can his best friend, the Cucumbers' star wizard, help him now? And does he even want the help of his so-called friend?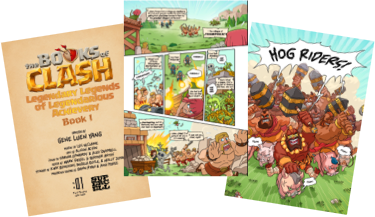 Gene Luen Yang writes, and sometimes draws, comic books and graphic novels. As the Library of Congress's fifth National Ambassador for Young People's Literature, he advocates for the importance of reading, especially reading diversely. His graphic novel
American Born Chinese
, a National Book Award finalist and Printz Award winner, has been adapted into a streaming series. His two-volume graphic novel
Boxers & Saints
won the LA Times Book Prize and was a National Book Award finalist. His nonfiction graphic novel
Dragon Hoops
received an Eisner Award and a Printz honor. His other comics works include
Secret Coders
(with Mike Holmes),
The Shadow Hero
(with Sonny Liew), as well as
Superman Smashes the Klan
and the Avatar:
The Last Airbender series
(both with Gurihiru). In 2016, he was named a MacArthur Foundation Fellow.
Les McClaine is the Eisner Award–nominated author of Jonny Crossbones, Life With Leslie, Repeat Until Death, and Highway 13. He has also illustrated numerous comics including The Tick and The Middleman. His other illustration credits include Tune: Still Life, Head Games: The Graphic Novel, Old Souls, and Maker Comics: Live Sustainably!, all from First Second.
Alison Acton is a Canadian artist with a background in comics and traditional animation. She's worked for studios like Spumco, Pocket Gems, and Big Jump, and publishers like Harper Collins, Tokyopop, and First Second. She loves creating expressive characters, writing snarky dialogue, jiu-jitsu, and long dog walks away from her three boys who always invade the office and shed Lego EVERYWHERE.
Karina Edwards is a colorist who has worked on graphic novels for authors such as Hope Larson, Shannon Hale, Jay Hosler, Ben Hatke and many others. She attended Berkshire College of Art and Design in the UK and currently lives in Tennessee.